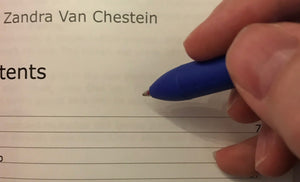 Are you getting something you'd like signed, be it a book, poster, or pretty much anything else? Add this to your order once for each thing you'd like signed! Please specify the following in your order comment:
Which item you want signed
To whom it should be signed
OPTIONAL: A short message you'd like me to write
And that's it! Thank you so much! :D

Only purchase this if you're also buying something that you want signed! If you buy this by itself or with something that can't be signed, I'll get in touch and we'll work it out.
Why did signatures get more expensive? My inventory is now split up between myself in Canada and fulfillment specialist Jen in the US. Jen handles most orders (giving me more time to write) but anything with a signature has to be handled by me, which takes more of my time and can result in more expensive postage. Thank you for understanding!