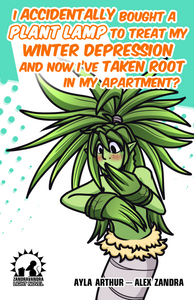 Personal growth is hard.
Sometimes we need a little help.
It's hard to be productive when we're depressed; doubly so when it feels like the very seasons are against us. And sometimes, once we start digging, we find that the roots of our discomfort run surprisingly deep.

Professional artist Cano knows this all too well, falling prey to winter doldrums year after year; it's become practically routine at this point. When the weather turns cold, they shut themselves in and ride out the sadder months of the year. But what if they didn't have to accept this? What if they stood up for themselves, and took action?
What if, in a fit of self-actualization, they made an impulsive online purchase and got more than they bargained for?
More than a year in the making, Plant Lamp is an illustrated light novel about surviving, thriving, and the messy path between the two. I hope you like it! Let's keep making wonderful things together.
Featuring the art of Ayla Arthur!
This is a light novel of 160 pages with 10 interior color illustrations and a glossy color cover.
This is the physical version of the book; if you'd like the digital one (in PDF and ePub), please head on over to zandravandra.itch.io/plantlamp!