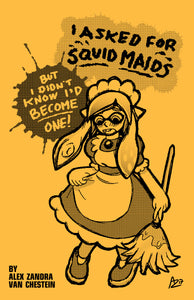 Content you posted in-game has been deleted.
Violation: Advertising and/or Promotional Content.
What do you do when a console manufacturer deletes your drawing because they mistake it for a light novel advertisement?
YOU WRITE 20,000 WORDS OUT OF SPITE IN A SINGLE WEEK.
Hey hi my name is Alex Zandra and I do a lot of things; one of which is draw fake light novel covers (silly situation + excessively long title) and post them to Twitter. When folks started drawing ingame postcards about squid maids in everyone's favorite paint-based multiplayer phenomenon, I made one of my own! But two days later, I got the message above. The decision was final. So I decided to prove them right—by actually making the book a reality. And now it's here in your hands! So settle in for 64 pages of
maids
,
squids
,
squid maids
,
self-discovery
, and a LOT of
gender feels
. Because that's what I do.
This is a light novel of 64 pages, staple-bound, with 9+ black & white illustrations. The cover features black & white art on colored, thick paper.


This is the physical version of the book; if you'd like the digital one (in PDF and ePub), please head on over to 
zandravandra.itch.io/squidmaids
!