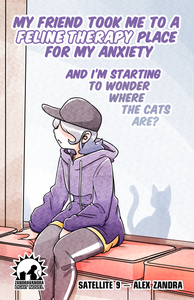 Relaxing with a purring cat can make people feel better…
…but did you know purring makes the cat feel better too?
Some folks see the daily challenges we've made it a habit to overcome and can't stop themselves from trying to help. Surely there's a way. Surely there's something we haven't already tried. And sometimes we humor them, because even though their solution isn't for the right problem… what if this one works? What this is the one that helps?
What have we got to lose?
A first-person exploration of anxiety, Feline Therapy is my biggest departure yet; lighter on the gender feels, heavier on the ways we face our problems and the ways we escape them. It's my first full-color book, as well as my first collaboration with a professional illustrator. I hope you like it!
Please enjoy, and let's keep making wonderful things together.
Featuring the art of Satellite 9!
[content warning: this story deals with altered states of sentience; the last half gets intense, so please give yourself time to read it in one go]
This is a light novel of 36 pages, staple-bound, with 5 color illustrations. The cover features a color art spread on glossy paper.
This is the physical version of the book; if you'd like the digital one (in PDF and ePub), please head on over to zandravandra.itch.io/felinetherapy!